Keeping the pace, constant improvements, here's the new official release.
Team races
Some major changes to ease things when it comes to managing the team data:
the old Team list side panel disappears and is replaced by a more accessible and convenient Teams tab, making it available as a standard grid. Means you can get the best of it: sorting, filtering, multi-line edits,... The list can be filtered by race just as the participants or results grids. New data columns are available to get numbers of teammates registered/ranked/finishers. So more statistics become available.
when printing the grid, you'll get a handy choice to print either a simple list or a detailed one with participant details.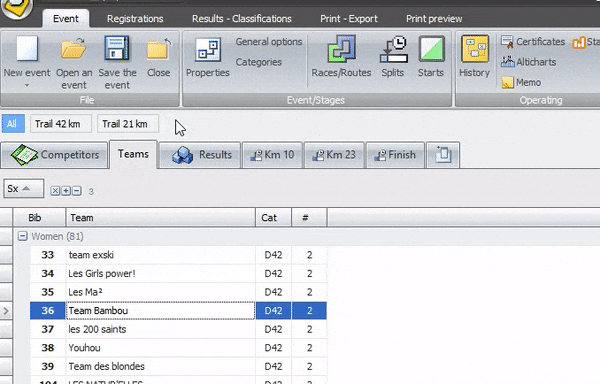 the team categories become a separated list, making things clearer in most race contexts. So that where it matters you'll be able to work on a shorter and more relevant list for selection. Options concerning automatic assignment of team categories are now accessible from the categories form below the list.

G-Live
Lot of ideas to keep enriching this strategic piece of the solution.
New TV Screen mode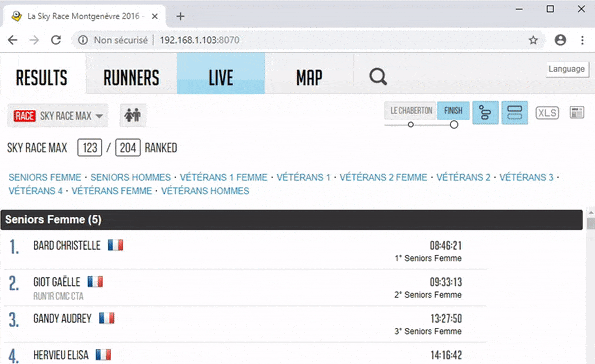 If you want to display results on a TV sized screen, here's a great new feature. First load the standard G-Live page, select the grid/race you wish, press F4. The grid goes in full page mode and starts auto-scrolling. A non scrolling mode is available by hitting F4 once again. And F7 gives a nice dark theme eventually more suitable for outdoor contrast.
Don't forget to play with the browser zoom as well, before setting it in full-screen mode.
Maps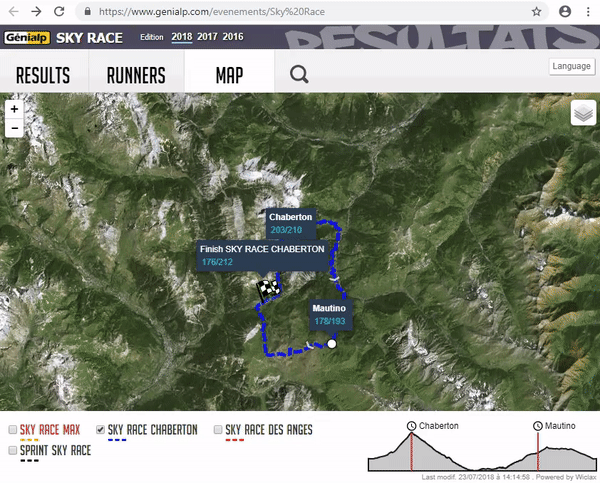 Better design and user experience for the map items:
different tracks now toggled in one click (loosing the (useful?) ability to display more than one track at a time, but much more comfortable)
the profile shows the intermediate timing points
timing points on the track are displayed with the number of passed/expected runners. Numbers updated in live when the race Live is on, and a click on them pops up a summary of the associated ranking, men and women
Finish line video embedded
If you have a Youtube video of your finish line, you can now enter its address as an event parameter (tab Social networks of the options form. Alongside with its starting hour. On your online results, the video will be embedded into the athlete summary form and will start right before he/she's crossing the line.
Penalties
Penalties are now displayed on G-Live: a mention of the time values added is shown on the result grid, and the detail of the motives can be seen in the competitor summary.
Athlete summary form
Now shows both average speed and pace values, corresponding to the main finish time.
Men/Women/Mixed selection
The selection menu is re-designed, more compact and hopefully more obvious.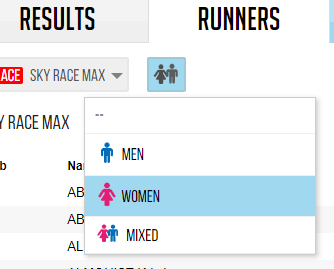 Auto scrolling lists on screen configurations
Result lists items placed on a custom screen configuration can now be auto scrolling. You control parameters such as the step height, the scrolling pace and the animation duration. Scrolling can be horizontal as well.
Control recent passing
A new menu item brings the ability to decide when the recent passing history disappears from displays. Rather than an arbitrary timeout, you decide what and when to clean the list, for example to prepare for the next race or the next lap.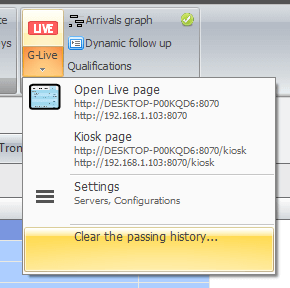 Printout
The design of printout templates is enhanced: now organized into 4 distinct areas where text items or pictures can be placed. Document header, (other) pages header, page footer and document footer. Hence more possibilities, like appending some document notes as required for the event. And a nice shortcut as bonus: when working on the print preview a text item from the template can be clicked to quickly change its content.
Participant filters
A very nice and helpful new feature for participant management: on the top panel of the main grids you'll find a new filter icon like this: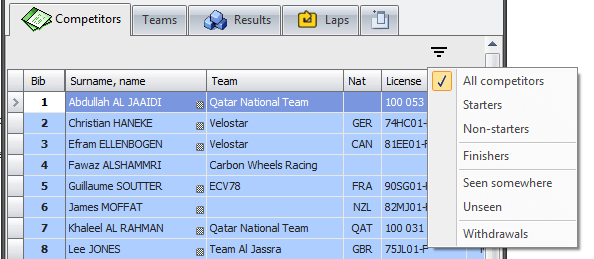 It offers some quick additional filtering possibilities, in the sense they're not built on the visible columns data. And they won't conflict with a regular filter already applied like a race selection, rather combining with it.
On the participant list the built-in conditions adds some shortcuts to isolate starters/non-starters, finishers, participants seen somewhere/nowhere, or withdrawals. So it's totally convenient to change in one operation the status for all individuals not seen at any timed location - typically setting them as non-starters.
On the result grids it's combining the data check features, to find missing intermediate times or inconsistent split time chronologies. These ones were already existing as a ribbon button but this way they become much more accessible.
RFID Systems
A consistent list of updates on that front too:
J-Chip connection now fully implemented
Mylaps and AMB decoders now with direct connection, using proprietary protocol P3
new option on the Race Result acquisition to filter chip reads by event id(s)
new general option to prevent the creation of unknown chip read in any case, suitable for events where the participant list or the chip distribution have no reason to be wrong
Miscellaneous
Implementation of export format for UCI races (UCI Dataride)
New variables available for custom exports: race time, gross time and rank for a given split point, time and rank for a given segment, number of starters in the gender and the category, all individual data for a given teammate when exporting a team ranking. Documentation re-written as a more accessible html page in /Export folder
New option to define a race as not published on the Web - it will be hidden on the G-Live app
Custom exports are now compatible with the export of a team ranking, and the export dialog now allow to select team ranking items for each race
For unisex events, a new general option allows to tell that participants for the competition are all men or all women - disabling stuff like Women highlighting for instance