Our regular update, before the season gets too hot...
Race start shortcut

New menu item to enter a start time for a race: quicker option than loading the race list, looking for the right race item and validate. Also can be helpful if you intend to simply record a gun start with the mouse, using the PC clock.
And to enhance further the UX at this place, the contextual menu doesn't show anymore on a right click but instead a drop-down arrow appears on mouse over and a regular click does the job. So you have more chances to discover/remember the feature, which comes along the pre-existing menu to flag a race as terminated.
G-Live
For those using the header option for their G-Live online, the default header content provided as a template (header.html) now includes an HTML element to load a logo for the current event.
If the header is in place, all you'll have to do is filling the new property in Event options screen / Web publication of your events. When browsing the event online the logo will show up.
Internationalization
Pursuing our efforts to provide a great experience to most of you, the job of translating documentation in Spanish has been started.
Relay races
A new option is now available to handle a relay race when runners/riders/... will share a unique chip for a whole team. It's still based on the Relay races management principles explained in the inline help files.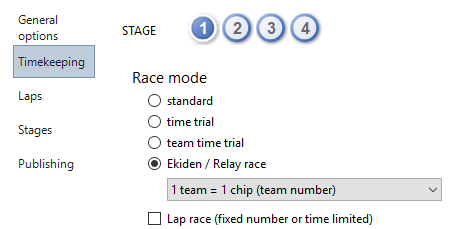 In practice, it allows to register all individuals with their own bib number. In addition you'll have to manage team numbers data and the chip ids will point to it (ex. chip id 4000 for team #4000 with teammates bib range 4001-400x).
When passing acquisitions come down Wiclax will determine which leg is concerned (including leg finish or intermediate splits) and the final ranking will show all the details you expect by participant.
Team races
Having an event globally set as a team race, you can now specify that a specific race of it is an individual one.
Means you can more easily mix team and individual races in a single event, up to the web publication where you'll retrieve a team ranking when necessary, and a regular individual ranking for individual races. 
Cycling
To catch up with a new point of the latest UCI regulations, you can now enter some points penalties that will be effective on the climbing classification instead of the points (sprints) classification.
Printout
When printing a team ranking, the option for the team participants display (all, none, ...) is now directly available on the print preview.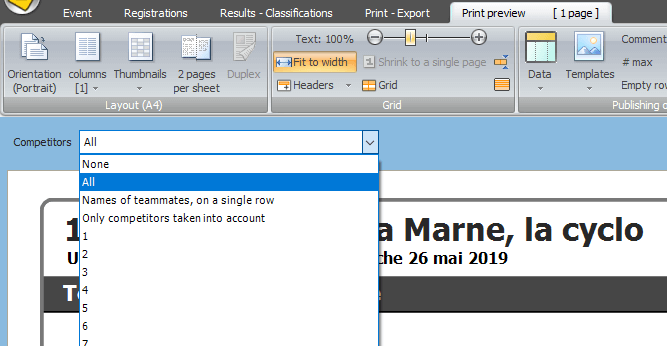 The detailed team list (including participants) is now compliant with the thumbnail mode, and shows flags for the team nationality. Standard mode has been enhanced as well for a better density.

Championships module
More flexible than ever, you can now chose which merging key will be used to recognize a same competitor in the different race files.
The key remains by default the competitors full names, originally made for events where no overall control of the registration data exists (i.e. each event registration process is made independently). Then you can now decide to merge on bib numbers, license numbers, or any custom data that will be found in all race files.
General classifications
New option to allow for "DNF" competitors to appear listed at the end of the ranking. It applies to those who typically didn't participate or finish all the required stages. They get appended to the grid, with a DNF status but allowing to display the detail of their performances for the stages they run.
Stage races
For your events managed as independent stages, you now have a new column named 'Stages' available for the participant list. It displays some visual flags to quickly see on which stage each individual is registered.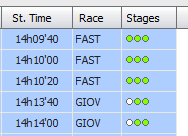 Furthermore the column can be sorted or filtered, bringing new abilities to work on participant subsets like for instance all those registered on stages 1 and 3. 
Custom export formats
A stage index can now be specified alongside a variable to export, other than the one of the exported stage.
Gives the ability for instance export a grid including the start time of the next stage, performances (time, rank) for each stage, etc...
Team time trials
In UCI cycling mode, the net time for riders will be automatically set with the value of the nth rider of the team, when the criteria for the team classification of the stage is actually the "time of competitor of rank n".
Chip filtering
In addition to the general filter, it's now possible to enter a list of single ids to exclude that will be saved at the event level (not globally). Useful for cases when a test chip has remained on the circuit, and comes back again and again with a regular import.
Miscellaneous
Penalties and bonuses

: they can now be entered by pasting an external list. Useful in some specific cases where you'll have a bunch of them to enter.

Printout

: a new page settings option brings the ability to insert page breaks between groups. For example in a result list grouped by categories.

Withdrawals

: similar to entering a list of non-starters, a new item from the competitors menu now allows to enter a list of bib numbers to mark as withdrawals. The bib list entering dialog has been enhanced to display a few useful information on the bib being typed - competitor's name, race and status.

Filters

: new item for the grid filtering control (on the right-top corner), allowing to isolate unknown participants created after a chip read.

G-Live

: improvements on the display of map legend and track profiles, on smartphone screens.