All about keeping the pace, despite all. So here we continue with an additional release upon our successful v9. Wishing it to add up on the software strong basis - with a number of fixes included - and to continue bringing valuable new features for all of you.
As usual, a list of things to extend the range of race configuration possibilities and to maximize the ergonomics of the solution - not to say the pleasure to use it.
Some new implementation for acquisitions
The BeChronized acquisition is updated to comply with the new system Ceres G3.
Still through the same Online passings acquisition, you can connect to DotVision API and take advantage of their geo-fencing timing capacities. The passings get down to your event file just like any regular acquisition.
Tag Heuer devices equipped with a modem can be set up to synchronize their data with your Génialp cloud service. Backup and import service, but best of all instant forward to your Wiclax event. More to see in your service administration page if you're still to discover it.
New design extensions for G-Live
No new release without bonus gifts to the most visible part of the solution! We've worked this time on these topics, as you've probably noticed already through our Facebook posts:
Athletes pictures
Making some progress on this feature, aiming to enrich your results online with some pictures of participants.
Currently possible in one way, which reuses the fact that the athlete summary is looking for a <bib-number>.jpg file in the event folder. In case the picture found is less than 150px, it's assumed it's something like a user profile picture and is positioned and styled this way: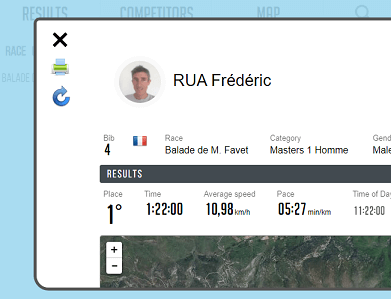 Of course limited as you won't often have such a set of pictures, named after bib numbers. So we're working on more flexible options like looking up in a centralized folder, having something else than the bib as an identifier, or calling a custom URL that will return an image (from a DB or whatever). More on that soon, waiting for that don't hesitate to share your own use cases.
Custom color palette
Want to present your race results in a more colorful way, or to get them closer to your brand colors? This is now possible! More information about it in this post.
New settings menu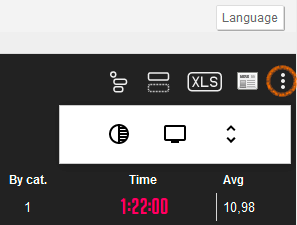 The new menu - intended to remain discrete on the main page - gives a definitely simpler access to those features mainly useful on the local area: switching the dark/light color themes, running the TV mode - auto scrolling or not.
Points on rankings
2 different concepts are getting developed in parallel:
Some

points based events

, where point values are the primary ranking criteria and they actually replace time performances. Available from the Points ranking entry of the event creation assistant. So far intended for some collateral use cases when you need to publish such a ranking. Latest changes allow the points entry through the result input form or through data file import.
A

points allocation as a secondary data

, when the primary ranking is still based on timing.
This second concept is now coming live, opening some new possibilities to manage sports where points are participating to the rankings.
Some details about the implementation:
A new Points tab in the event options form allow for specifying which point values are allocated. Based on final ranks, and point series can be specified either globally or based on rank by category/by level group.
As of now the allocation is applied after a manual action and not automatically (exception made of an allocation on the general ranking).
A new Points column can be displayed in the result grid. If necessary, some point values can be entered manually in grid cells.
Different point series can be specified by stage/heat in a stage race, and the general ranking can be set to be calculated on points (i.e. the sum of points for each stage is used to order the ranking).
A team ranking can be set to be calculated from individual point values (note that the previous point allocation grid that was there is now moved)
An option of the Championship module allows it to work on point values extracted from the events, instead of being (re)calculated locally.
Passings to ignore on acquisitions
Useful feature when an acquisition is running as an automated file import, or is plugged on a cloud data service: when a passing has to be eliminated for some reason, the risk exists that it keeps coming down again and again if it's still in the original data and in the time period scope.
To avoid that, you can now put an 'ignore' flag on some passings from the history.
New menu is available at the bottom of the result entry form, below the time lists. Click All first to display the whole history and then you can locate some records by filtering a bib number for example.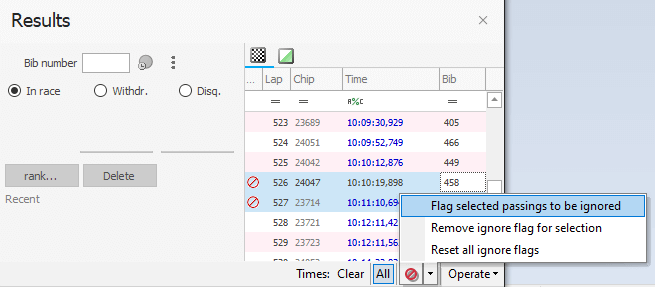 Miscellaneous
On printout: ability to print only selected rows from the current grid. Simply by launching a print preview after selection is made. A confirmation will be prompted.
Team ranking: for the case of a points based ranking, you can now specify a number of best results to keep.
Emails: new context menu item Send an email for a competitor or a selection of competitors in the grid. Opens the system's default mail client and initializes the message.
Races without ranking: the option to publish an event without ranking (i.e. only performances are displayed for athletes, which are simply sorted by their registration order) is now available at the race level. Allowing to manage such a race among regular ones in the same event file.